2000:
March: WCHS sponsors a lively information booth at the Quest for Alternatives Holistic Fair in White Rock.
November: A letter-writing campign by several dozen WCHS members expresses our shared concerns about the Federal government's plans to create a separate Office of Natural Health Products that would include regulation of homeopathic products.
December: Representatives from WCHS and Health Canada hold the first of many consultations about regulations affecting homeopathic remedies.
2001:
July: The Board sends new director, Jo Twiss, to attend the inaugural meeting of the Canadian Coalition for Homeopathic Medicine (CCHM) in Toronto.
October: Thanks to support from the North American Society of Homeopaths, our members Susan Gimbel, Cindy Papso, and Jo Twiss sell tickets at the NASH Conference in Colorado to raise funds for our CCHM commitments.
October: WCHS holds another Annual General Meeting at the School of Theology, UBC.
December: A Public Awareness & Education Committee is formed to co-ordinate Society-sponsored activities to inform and educate the public about the benefits of homeopathy.
2002:
January: January 1st marks the beginning of a new annual system of membership based on the calendar year, which will afford more efficient processing of membership fees and benefits.
April: WCHS gets a dedicated phone number (604-803-9242) and a Yellow Pages listing.
June: The Society holds the 2002 Annual General Meeting at the School of Theology, UBC. Members elect a new Board of Directors comprised of Nathalie Desroches Allen, Tammy Colleton, Diane Louie, Mark Ticehurst, and Jo Twiss.
July: WCHS registers a new domain name (www.wchs.info) and launches a new website format.
2003: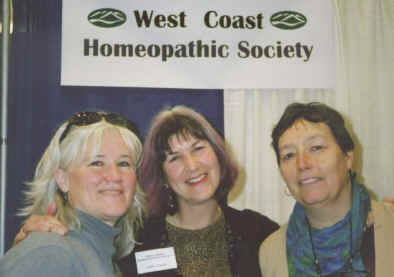 January: WCHS members distribute 600 information packets to attendees at the Victoria Health Show.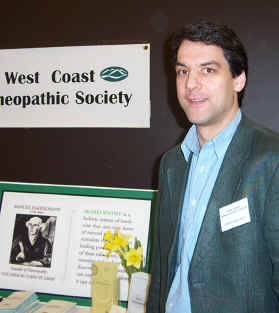 April: WCHS is invited to participate in the Alternative and Integrative Medicine Society (AIMS) conference at UBC where we introduce homeopathy to interested university students and faculty.

April: West Coast Homeopathic Society formally withdraws membership and participation with the Canadian Coalition for Homeopathic Medicine.

April: Annual General Meeting and new Board of Directors:
(Top l-r) Jo Twiss, Marc Archambault, Bonnie Pennell.
(Bottom l-r) Tania Bouchon, El Cecchetto,
Nathalie Desrochers-Allen.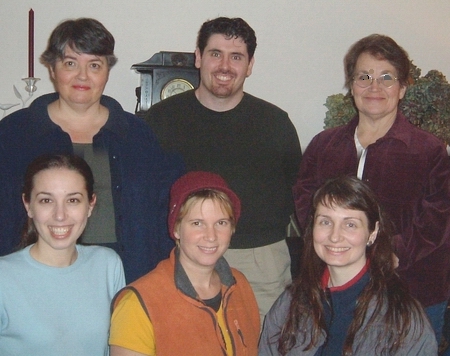 June: Thanks to many advertisers taking a chance on our newsletter project, the first issue of Homeopathy Now is released, with a print run of 900 copies.
August: An anonymous donation provides start-up funds for a Scholarship Fund.
September: Over 55 people attend our 2003 Annual General Meeting, electing a new Board of Directors and, afterwards, enjoying a festive potluck and an abundant raffle.
October: WCHS members explain homeopathy to nearly 800 people at the Vancouver Health Show.
November: WCHS raises $1,555 from the Silent Auction held during the HANP Annual Conference in Vancouver. Many thanks to the Homeopathic Academy of Naturopathic Physicians (HANP) for inviting us to participate!
December: The Board establishes an Endowment Fund to award grants in support of homeopathic projects – terms for which will be determined next year.
2004:
January: The WCHS booth at this year's Victoria Health Show attracts over 500 visitors and garners praise from the event's organizers.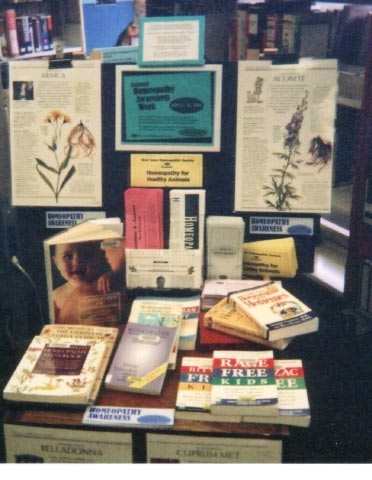 June: Members from coast to coast celebrate Canada's first national Homeopathy Awareness Week with free lectures, open houses, mini-clinics, meet & greets, and more! Pictured is a display at Vancouver Public Library, West Point Grey branch.
June: Our 2004 Annual General Meeting is preceded by a full-day Conference featuring keynote speakers Lianne South and Neil Tessler, plus a panel discussion on homeopathy for animals with Michael Goldberg and Julie-Anne Lee.