WCHS Annual Conference - April 28 to 29, 2007
The Arbutus Club in Vancouver was the location of the WCHS's 2007 annual conference and AGM. This is becoming a favourite location for the Society's activities, being easily accessible, with pleasant surroundings, and great food. It's a perfect venue for talking homeopathy!
This year's conference was held on Saturday, April 28 followed late in the afternoon by the WCHS Annual General Meeting. Featured speakers were Jo Twiss (standing in for scheduled speaker, Judi Adema who was absent due to a family emergency) who introduced professional standards developed by the Canadian Society of Homeopaths, and Karen Allen, who reviewed case analysis techniques.
A special highlight of the morning session was the presentation to Judy Chorney of a One Year Subscription for the Homeopathic Symposium Online Interactive Video Cases. This award came from the World Homeopathic Awareness Organization in recognition of the CSH promotion of HAW 2006, which Judy organized and made possible.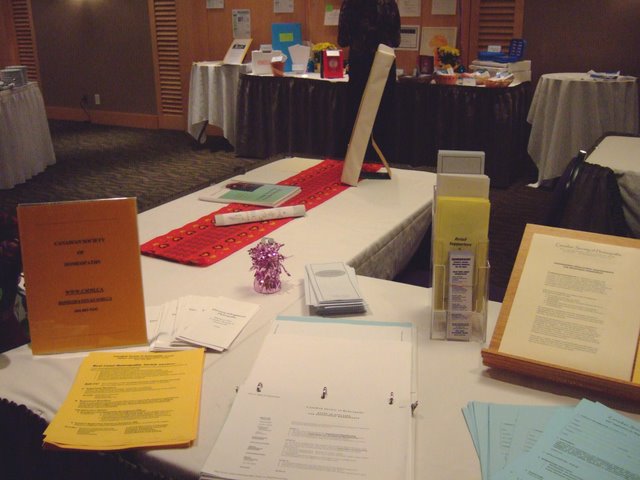 Annual General Meeting
The Annual General Meeting included the election of officers, aka the Board of Directors. Each year all Board members are elected for one-year terms. This year, nominations included three directors from the previous Board and four new members. The newly-elected Board of Directors is comprised of: Leah Bratt, Elena Cecchetto, Carol Emerson, Laura Gebherdt, Shauna Kovach, Anndee Raney, and Jo Twiss.
The day closed with the drawing of over 2 dozen prizes that included homeopathic software, remedy kits, literature, gift certificates, and much more. We thank all the donors (listed below) for supporting our Society with their generous gifts.
Post Conference Seminar: Karen Allen
On the following day, in the same location, WCHS sponsored its first-ever post-conference seminar. Keynote Speaker, Karen Allen, discussed "Individualizing the Case: Case Analysis to Improve Your Practice and Prepare for CHC Certification". Building on the techniques discussed in her Conference lecture, Karen examined several challenging cases with a lot of pathology, medical intervention, or unfocused presentation to show how to bring out the individualization that leads to a good remedy. The seminar included a working lunch, with complimentary buffet, and an opportunity to study cases that worked -- and some that didn't! -- for the case submission requirements for the CHC certification process.
Both the conference and post-conference presentations were well received and there were many requests to invite Karen back by popular demand!
All in all, it was another successful event sponsored by West Coast Homeopathic Society. And it should come as no surprise that our next annual conference is scheduled at the same location, also on the last weekend of April. Mark your calendars for April 26 & 27, 2008.
Raffle Prizes and Their Donors
Again this year over 2 dozen exceptional prizes highlighted the WCHS Fundraising Raffle at the end of our Annual General Meeting. We thank the following donors for their generous support of our Society:
Kent Homeopathic Associates: 2 Basic II homeopathic software packages
WholeHealthNow: Radar 10 with Synthesis – Treasure Edition
Homeopathic Symposium: 50 Credits towards Online Interactive Video Cases
Boiron: 2 Remedy Kits and a 2-drawer remedy storage unit
HomeoCan: Emergency Remedy kit and Selection of Homeopathic Remedies
Heel Canada: Basket of remedies
Greg Kemp: Gift certificate for Introductory Video Session to Rajan Sankaran's Further into Sensation seminar
Lianne South: Gift certificate for one day of Healthy Women's Seminar
Jonathan Damonte: 2 Gift certificates for Bowen Technique sessions
Robin Logan: Basket of 7 cream
Homeopathic Academy of Naturopathic Physicians (HANP): Subscription to Simillimum journal
Louis Klein: 2 copies of Clinical Focus Guide by Louis Klein
Marilyn Hirsekorn: Pictographica Homeopathica by Marilyn Hirsekorn
Whole Health Now Books: 1001 Small Remedies by Frederik Schroyens
Minimum Price Books: Homeopathy for Cats and Dogs by Don Hamilton and Homeopathy: Medicine that Works by Robert Wood
Peace Arch Homeopathic Centre: Impossible Cure by Amy Lansky
WCHS: Patient's Guide to Homeopathic Medicine by Ullman and Reichenberg-Ullman
Canadian Society of Homeopaths (CSH): $30 off 2008 Membership
Canadian Society of Homeopaths (CSH): Package of 100 What is Homeopathy? brochures plus 100 Homeopathy Awareness bookmarks