What's New at WCHS
WCHS Homeopathic
Book Discussion Group
Jane Cicchetti and
"Dreams, Symbols,
and Homeopathy",
March 26, 2023
FREE WCHS Virtual
Professional Education
Importance of Mental
Symptoms with Ram
Saini, RCSHom
Sunday, January 22, 2023

WCHS 2023 AGM
April 29-30, 2023

---
Past WCHS Events
Welcome to WCHS
Serving Homeopathy in BC since 1995
The West Coast Homeopathic Society of BC (WCHS) was founded to serve the homeopathic community in British Columbia, representing the professional and political interests of qualified homeopaths and promoting homeopathic awareness and education. The Society was founded on the basic principles and practices described by Samuel Hahnemann in his book, The Organon of Medicine.
---
Greetings from the Board!
Despite the continuing restrictions resulting from the COVID-19 and variants pandemic, West Coast Homeopathic Society has remained active in the homeopathic community, both in BC, nationally, and internationally.
We re-scheduled our Annual General Meetings, for both 2019 (in June 2021) and 2020 (in October 2021), as well as our next annual conference (in 2023).
We refined the layout and distribution of our quarterly e-bulletin and re-focused release dates to coincide with the dates of the summer and winter solstices and the spring and autumn equinoxes.
We became more proficient in online communication, holding and participating in many virtual meetings and gatherings during the year.
We expanded participation of our online homeopathic book discussion group, held on the last Sunday of many months, by inviting all members of Canadian Society of Homeopaths to join us.
As we continue our campaign to host informative promotions of homeopathy during 2022, we ask that you make a point of sharing relevant postings from our Facebook page. In particular we will be featuring regular items on the themes of Homeopathy: Did You Know?, Homeopathy and the Environment, and HOMEOPATHY: It Works for Me!
If you love to read, all members are welcome to join our lively online book discussions of interesting homeopathic titles. Purchase or borrow a copy to read in advance and then let us know of your interest at This email address is being protected from spambots. You need JavaScript enabled to view it.. We will send instructions to join our live zoom calls on the last Sunday of every second month (excluding summer) at 3 pm Pacific / 6 pm Eastern.
So whether you're a practicing homeopath or a home-user or someone just investigating homeopathy, we hope that in the coming year you will find the tools through West Coast Homeopathic Society that aid in your understanding and support of homeopathy. Watch here and on our Facebook page for updates and new developments!
What's New at CSH

Canadian Society of Homeopaths

April is
Homeopathy Awareness Month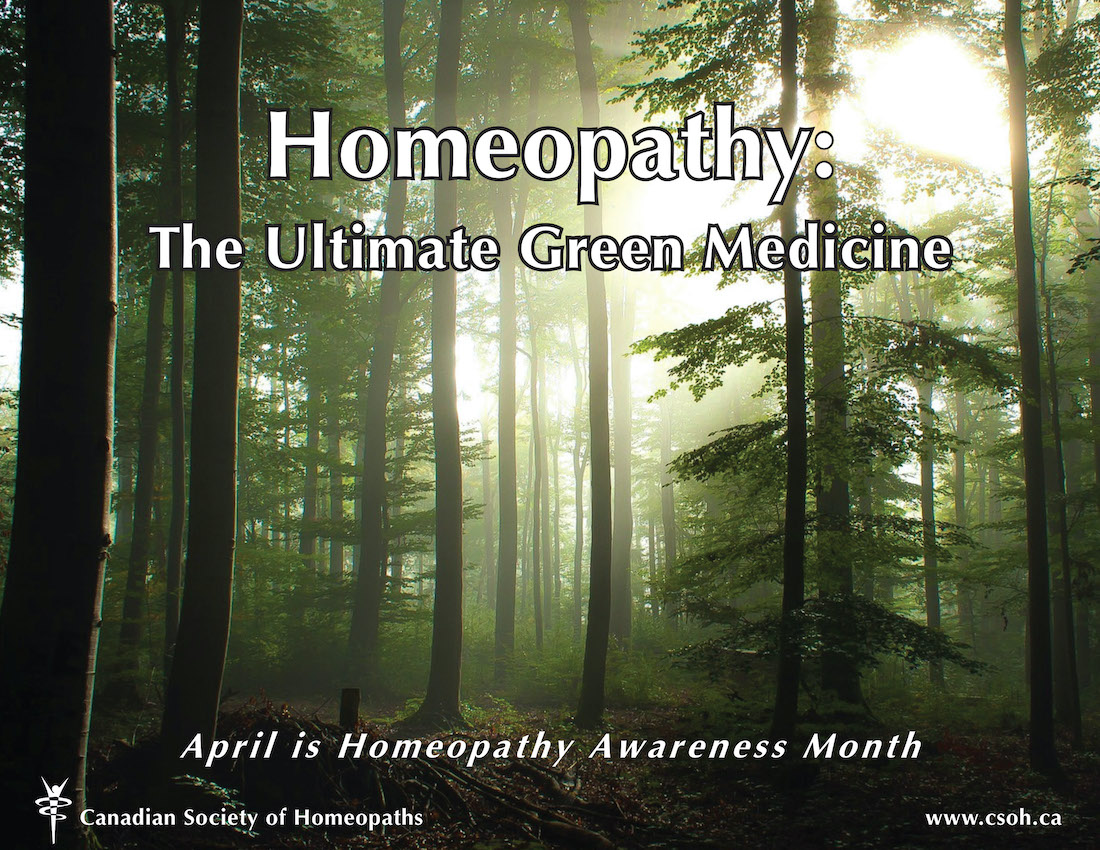 CSH Group Plans:
* Liability Insurance




CSH on Facebook
brings news and updates from across Canada and around the world.