What's New at WCHS
Online Homeopathic
Book Discussion Group
Next meeting: Sunday,
Jan 30, 2022
WCHS 2020 AGM
October 30, 2021

---
Past WCHS Events
Welcome to WCHS
Serving Homeopathy in BC since 1995
The West Coast Homeopathic Society of BC (WCHS) was founded to serve the homeopathic community in British Columbia, representing the professional and political interests of qualified homeopaths and promoting homeopathic awareness and education. The Society was founded on the basic principles and practices described by Samuel Hahnemann in his book, The Organon of Medicine.
---
Greetings from the Board!
As 2020 drew to a close, so did West Coast Homeopathic Society's much anticipated 25th anniversary. Unexpectedly, it turned out to be a year of unprecedented challenges for all, including our Society. Almost all our planned anniversary activities were altered in some way. However, behind the scenes we were able to accomplish many things that had not even been considered in advance.
We responded quickly in March to BC Health Ministry's COVID-19 restrictions so that by April all Homeopathy Awareness Month events were held virtually, with positive feedback.
We re-scheduled our 2020 Annual General Meeting (to October 30, 2021) and our annual conference with Michal Yakir (to 2023).
We improved our administrative function to advance depth, breadth, and capabilities of our organization.
We became proficient in online communication, holding many virtual meetings and gatherings during the year.
We announced a new online homeopathic book discussion group, held on the last Sunday of many months.
As we continue our campaign to host informative promotions of homeopathy during 2021, we ask that you make a point of sharing relevant postings from our Facebook page. In particular we will be featuring regular items on Homeopathy and the Environment and HOMEOPATHY: It Works for Me!
If you love to read, our next book discussion title is Dreams, Symbols, and Homeopathy by Jane Cicchetti. Purchase or borrow a copy to read in advance and then let us know of your interest at This email address is being protected from spambots. You need JavaScript enabled to view it.. We will send instructions to join our live zoom call on Sunday, January 30, 2022 at 3 pm Pacific / 6 pm Eastern.
So whether you're a practicing homeopath or a home-user or someone just investigating homeopathy, we hope that in the coming year you will find the tools through West Coast Homeopathic Society that aid in your understanding and support of homeopathy. Watch here and on our Facebook page for updates and new developments!
What's New at CSH

Canadian Society of Homeopaths

April is
Homeopathy Awareness Month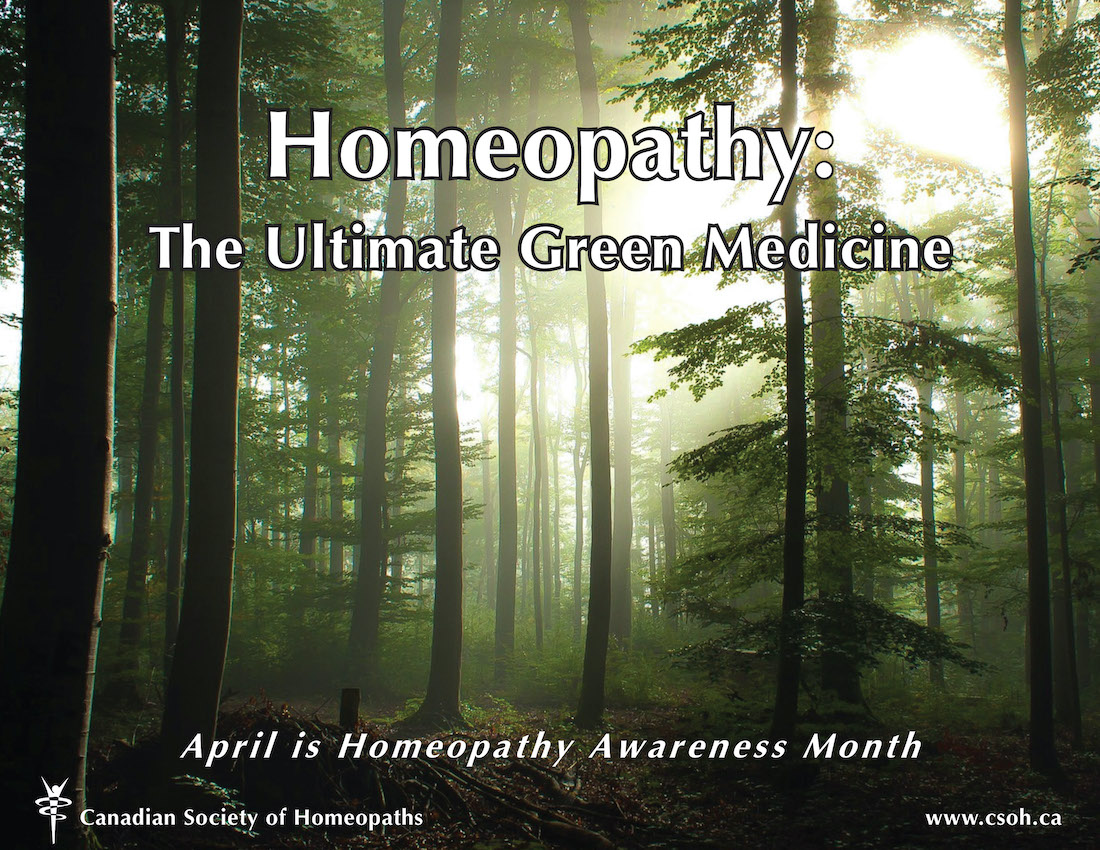 CSH Group Plans:
* Liability Insurance




CSH on Facebook
brings news and updates from across Canada and around the world.