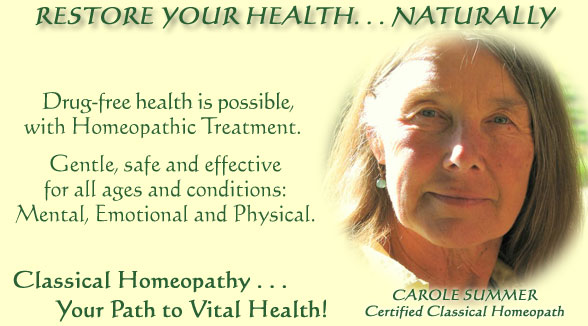 Carole Summer merges a 25-year career as a midwife with a long-time passion for homeopathy in her private practice in Kaslo, BC. Her training and experience in both fields combine to provide an in-depth and unique perspective to treating women and their reproductive issues.
Carole became a homebirth midwife in 1976 and spent 25 years guiding women and families through the childbearing years. During that time she taught natural childbirth classes, as well as serving 'high risk' mothers with complicated pregnancies encouraging gentle, sane, safe deliveries.
Her first spark into homeopathy came in her midwifery training with a chiropractor who taught acute-prescribing classes. Through the years she repeatedly witnessed how remedies brought out reluctant babies and calmed distressed mothers.
In the process of legalizing midwifery in 1982, Carole became a founding mother of the Colorado Midwives Association, which united Colorado's midwives and created standards of care and its own certification process, which was eventually adopted by the State of Colorado. A founding mother of MANA, the Midwives Alliance of North America, Carole sat on that board for several years and organized their annual convention in 1987. In 1993 Colorado passed one of the most progressive midwifery bills in the country, giving midwives autonomous practice without requiring doctor backup.
In the late 1980s Carole teamed with psychotherapist and author Christina Nealson, conceived and taught Reclaim the Moon Lodge classes using Native American inspired ritual and settings to inspire women to trust their body's connections with the earth and the moon cycles. This brought healing for participants in gynecological/menstrual/menopausal/fertility conditions. Carole also created a series of process workshops for women struggling with conception and infertility issues.
Carole went on to manage managed InJoy Videos, where she produced influential birth videos for childbirth classes in hospitals throughout North America.
Ending her years of midwifery practice, Carole recalled her love of homeopathy. Now there were schools! In the fall of 2000 she enrolled in the Colorado Institute for Classical Homeopathy (now Homeopathy School International) in Boulder, Colorado and the Dynamis School with Jeremy Scherr. She earned CCH certification from the Council for Homeopathic Certification in April, 2004 and more recently became registered with the Canadian Society of Homeopaths. In addition to her private practice in Boulder she tutored distance-learning students for the Homeopathy School of Colorado for two years.
In 2006 she relocated to Kaslo, BC, a village of 1,000 people near Nelson, where she is fulfilling her life-long dream of organic farming and practicing homeopathy within her community and beyond.
Carole Summer, RCSHom, CCH
PO Box 1161
Kaslo, BC V0G 1M0
250-353-7531
www.carolesummer.com
This email address is being protected from spambots. You need JavaScript enabled to view it.
CHom, Certified Homeopath - Homeopathy School of Colorado
PCH, Practitioner of Classical Homeopathy - Dynamis School for Advanced Homeopathics
CCH, Certified Classical Homeopath with Council for Homeopathic Certification
RCSH, Registered with Canadian Society of Homeopaths
Licensed Midwife State of Colorado #39 1993-2004