Celebrating Hahnemann's 250th Birthday
This year marks the 250th anniversary of the birth of Samuel Hahnemann, the founder of homeopathy, who was born in Germany on April 10, 1755.
Like thousands of homeopaths around the world, members of West Coast Homeopathic Society have recognized this 250th anniversary in various ways. Hahnemann's teachings were emphasized in our newsletter, Homeopathy Now; the theme of our annual conference was "In Celebration of Samuel Hahnemann"; and Homeopathy Awareness Week in April provided many opportunities for our members to celebrate Hahnemann in their own communities.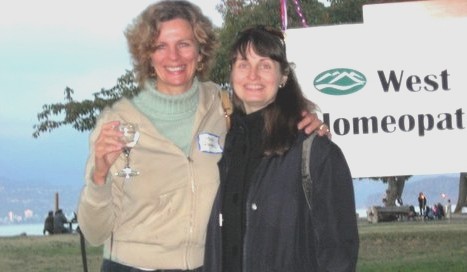 Susan Gimbel & Nathalie Desrochers Allen celebrate Hahnemann
During the final days of warm September weather, WCHS held an evening tribute to Hahnemann at Vancouver's beautiful Locarno Beach. A short stroll to the water's edge and nestled under massive Western cedars, balloon-festooned information and display tables attracted passers-by. Other tables were laden with gourmet picnic foods from Blue Flame Grill, plus a wide selection of refreshments.
Homeopaths, students, friends, and their families joined in the fun, enjoying old friends and making new ones. Several commented how glad they were for the opportunity to be part of such an affirming community. And all extended special thanks to Christopher Gehry and Judy Chorney for organizing such a memorable and delicious event!
As the evening waned, an imaginative fire pit was lit, around which the remaining participants gathered to share thoughts about the significance of Hahnemann in our lives and the future of the homeopathic profession. Christopher Gehry offered a toast in his memory and then read by torchlight several recollections of the great man by his contemporaries.
Susan Gimbel shared her recollections of a similar gathering in majestic natural surroundings that occurred some time ago in India. Her comments emphasized what a privilege it was for us all to have come together at this time to recognize such a great individual and his legacy.
Rasoul Slater spoke about provings, the key to our understanding of homeopathic remedies, and shared new information and insights on various provings and their importance to knowing remedies. A thoughtful and varied discussion ensued covering several other personal and philosophical aspects of our involvement with homeopathy.
Eddie Gardner reflected on the link between homeopathy and Nature and then performed his own Song of Gratitude.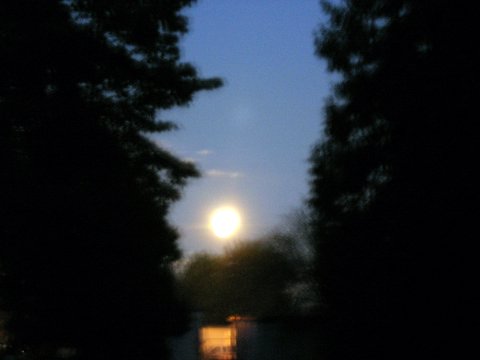 Full Moon at Locarno Beach
As the full moon rose beyond the distant mountains, Jo Twiss concluded with the observation that the spirit of Hahnemann was like a torch in the darkness. As the flame from his torch had been passed to his students, and they in turn passed their passion and knowledge of homeopathy to their students, so it has continued through generations of homeopaths. Every one of us there could identify the source of our own flame, sometimes a single person, sometimes several. At this gathering, we all could look back and pay tribute to that initial spark and we could look forward, knowing that the responsibility was now ours for passing the flame on to future generations.
This was an inspiring, affirming, and memorable occasion for all, and a reminder for each of us to find our own way to carry on the legacy of Samuel Hahnemann.